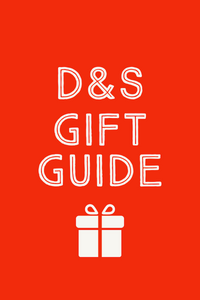 Holiday Gift Guide
Wondering what to get the artist in your life? Check out our holiday gift guide below! We have suggestions for essential items to equip an artist studio, as well as materials for someone who may be wanting to try a certain art medium but isn't sure where to start.
ACCESSORIES FOR AN ARTIST STUDIO
These are items we can't live without in our studio. Whether your gift recipient is an established artist or just getting started, we guarantee these items will help make their lives easier and their processes more smooth!
1. Heat gun and/or Blow Dryer - perfect for drying paintings, helping pop bubbles in resin (heat gun works best for this) and speeding up curing time on just about any material but especially silicone. We have found great blow dryers at thrift stores, but if you are in the market for a heat gun, your local hardware store should have them!
2. Electric Skillet - These work great for melting down wax and rosin for encaustic painting or candle making, and they are also killer for heating water up for thermoplastics! Again, thrift stores are a great place to find one, but if you aren't having any luck, try Target!
3. Shop Apron - Art can be messy, but you don't have to be! Aprons help protect from spills and splashes, plus if the one you get has pockets, you can keep tools or brushes you need close by! We found some good ones at Home Depot.
4. Utility Knife - Whether you need to cut excess resin off a casting or excess silicone off a mold, or just open boxes and bags of materials, a utility knife is never a bad tool to have on hand in the studio! We've heard rants and raves about this one from Makita.
5. Scale - Having a scale to use when items need to be measured/mixed by weight is essential! We love this one from a company out of Colorado, but you may be able to find one closer! 
6. Space Heater - Space heaters help materials cure and dry and make for a much more comfortable experience if your studio happens to be in a garage or basement. Need we say more? We found this one for a good deal!
ART MATERIALS/KITS
These are some of our favorite materials because they have multiple uses and are pretty user friendly. If you have any questions about any of the items listed below, we are here to help!
1. Resin and resin dye and/or pigments - Our favorite resin is NuClear Epoxy, which comes in pint sets all the way up to 5 gallon sets. This stuff won't yellow and has a pot life of about 45 minutes so you have plenty of time to mess around with mixing pigments or embedding objects. It works great with our resin dyes, luster pigments, dry pigments, fluorescent pigments, Mixol tints and glitters, to name a few! Get some and a silicone mold from a store like Michael's and you're good to go!
2. Acrylic Gloss Medium - This stuff works great to make your own paint! It comes in quarts, gallons and 5 gallons. You can use any of our pigments with it, just note that before the paint dries, it will look more "pastel" than it really is because of its milky color while it's in a liquid state. Start with a quart, some dry pigments or some Mixol tints and a canvas and you will be painting in no time!
3. Food Grade Silicone - This could be a fun holiday project for making some chocolates shaped out of an object you have around the house, or you could sculpt your own out of some clay and make a mold of that! We've even heard of people using a 3D printed object to make a candy mold from. How cool! Comes in 1 pound or 1 gallon kits.
4. Books - We have quite a few books on all sorts of topics from Art Deco style to painting methods and materials. We've listed some of our favorites here!
5. Hand Casting Kit - If you want to make a keepsake of someone's hands or feet, our Dermagel alginate and White Hydrocal Plaster are a perfect combo! We even have step-by-step instructions and some cylindrical molds that work perfect for hands/arms.
6. Gift Cards - Always a great choice if you don't know what to get that special someone! These can be redeemed online or in-store and start at just $10! Get one here (please note these are digital only, they are not a physical gift card).
Hopefully this gives you some great gift ideas to work from. Add your own essentials below in the comments!
---