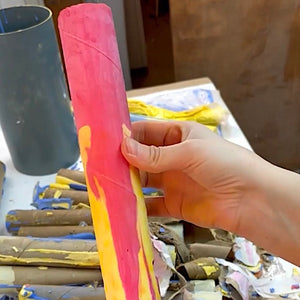 DIY: Giant Sidewalk Chalk with #1 Molding Plaster and Dry Pigments!
There's nothing we love more than DIY at D&S! Here is a cool project you can do with friends and loved ones - giant sidewalk chalk using #1 Molding Plaster and some dry pigments! Super simple and super fun!
click HERE to watch the tutorial on YouTube
Steps are below:
1. Gather some old paper towel rolls and tape one end of each
2. Spray the inside of each paper towel roll with a silicone lubricant (or line with parchment paper) and place in bucket tape side down
3. Mix 2-3 small scoops of dry pigment into dry batches of #1 Molding Plaster (for these batches we used 3 scoops of color for 5 lbs of plaster)
4. Pre-fill plastic bags with water (we filled with 3.5 lbs of water, so the ratio is roughly 3.5 parts water to 5 parts plaster)
5. Sprinkle the plaster into the plastic bags and re-seal but do not mix yet
6. Once all the plaster is in the plastic bags, mix them up! This takes about 30-45 seconds. Work fast as this plaster sets quickly
7. Cut a small hole in the corner of each plastic bag and fill your paper towel rolls with the plaster mixture. You can fill with one color or multiple colors for more of a "tie-dye" pattern
8. After 5-10 minutes, you can begin unmolding your paper towel rolls and peel the paper off to reveal your chalk!
9. Let dry (to speed up drying you can microwave the chalk pieces for 2-3 mins at a time or place outside in the sun)
10. Enjoy! You could also use silicone molds or toilet paper rolls if you don't want to make giant chalk, just adjust your measurements accordingly.
---